It's safe to say that Tyrannia is the worst place to go if you want to spin wheels and win grand prizes like large amounts of Neopoints. Between the Wheel of Mediocrity and the Wheel of Monotony, there isn't much to look forward to besides a couple of avatars that will take many tries to get. In the mean time, there is going to be a lot of waiting. Enter the Wheel of Monotony where it's all in the name: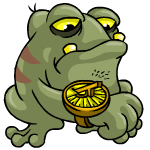 BOON
If your faction wins the Battleground of the Obelisk, you have the opportunity to use the Right Round Right Round boon. Activating this would allow you to spin all of the wheels twice before needing to wait to spin again. You do have to pay a second time. To get your second spin, you need to refresh the page after your first spin.
PRIZES
You can spin this wheel for 150np once a day. This wheel has tons of prizes included the coveted avatar! The only thing about collecting your prize is that you have to wait a long time to do so. Like, a really long time. This wheel is infamous for spinning as long as 24 hours before landing on one of its 16 spots. It's important that you leave the tab open while the wheel spins; if you close it, you'll lose your spin for the day and need to come back tomorrow. Read below to see what you could win!
You win a visit to the volcano.
You win a random tan codestone.
You win a random Tyrannian weapon.
You win an avatar.
You win Tyrannian Petpet Paint Brush.
You win one ticket for the The Neopian Lottery with random numbers.
Your active pet loses half of their hit points.
You win Tyrannian Paint Brush.
You win 5,000np.
You win a random Tyrannian food.
You win a random exclusive prize.
Nothing happens.
You win a random red codestone.
You win a visit to the Lair of the Beast wherein your pet may lose all but 1 hit point.
You win a random Tyrannian Petpet.
#0: You win 20,000np.
▻ Avatar

Spin the Wheel of Mediocrity and land on the question mark space.
EXCLUSIVE PRIZES
These are the prizes you could possibly win if you land on the scroll of paper (#11 above):
| | | | | | |
| --- | --- | --- | --- | --- | --- |
| Fungus Ball Ball | Fungus Ball Bean Bag | Fungus Ball Lamp | GoGoGo Handbook | I Love Kacheekers T-shirt | Kacheekers Board |
| Kacheekers Plushie | Kacheekers Poster | Kacheekers Strategy Guide | Kyruggi Plushie | Pterattack Action Figure | Pterattack Bean Bag |
| Pterattack Game Guide | Pterattack Poster | Sabre-X Plushie | Sargug Plushie | Uggsul Plushie | Wheel Of Monotony Mug |
| Wheel Of Monotony Pen | Wheel Of Monotony Plushie | Wheel Of Monotony Poster | Wheel Of Monotony T-Shirt | | |
NOTES
Since you can win items and neopoints from this wheel, you cannot spin the Wheel of Monotony on side accounts. To learn more about what you can and cannot do on side accounts, check out our Side Accounts Guide.
You can mute the wheel by clicking the speaker in the bottom right-hand corner of the game screen. This might come in handy especially with this wheel because of how long it takes to finish spinning!
There was once a rumor that the wheel was half-way done spinning when the Quiggle looks at his sundial watch, but this has not proven to be true. Sorry! You'll have to wait!
Author: Sarah