If you've ever wanted to hear about the happenings of Neopia, read some original comics, or perhaps ask TNT a question, you're in luck because Neopia has its very own newspaper — The Neopian Times! This user-based "paper" is released every week by Saturday and is full of many informative and entertaining goodies. Read below to learn how to access the times, get published, and more!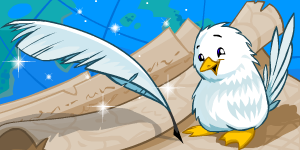 The Neopian Times mascot— the White Weewoo!
THE NEOPIAN TIMES: A (SHORT) HISTORY
The Neopian Times began being published in Winter 1999-2000. It looked much different than it does today! Before its revamp, it was a white page with simple bolded headers, and there were far fewer featured articles. Here is a snapshot of how The Times looked in its second issue: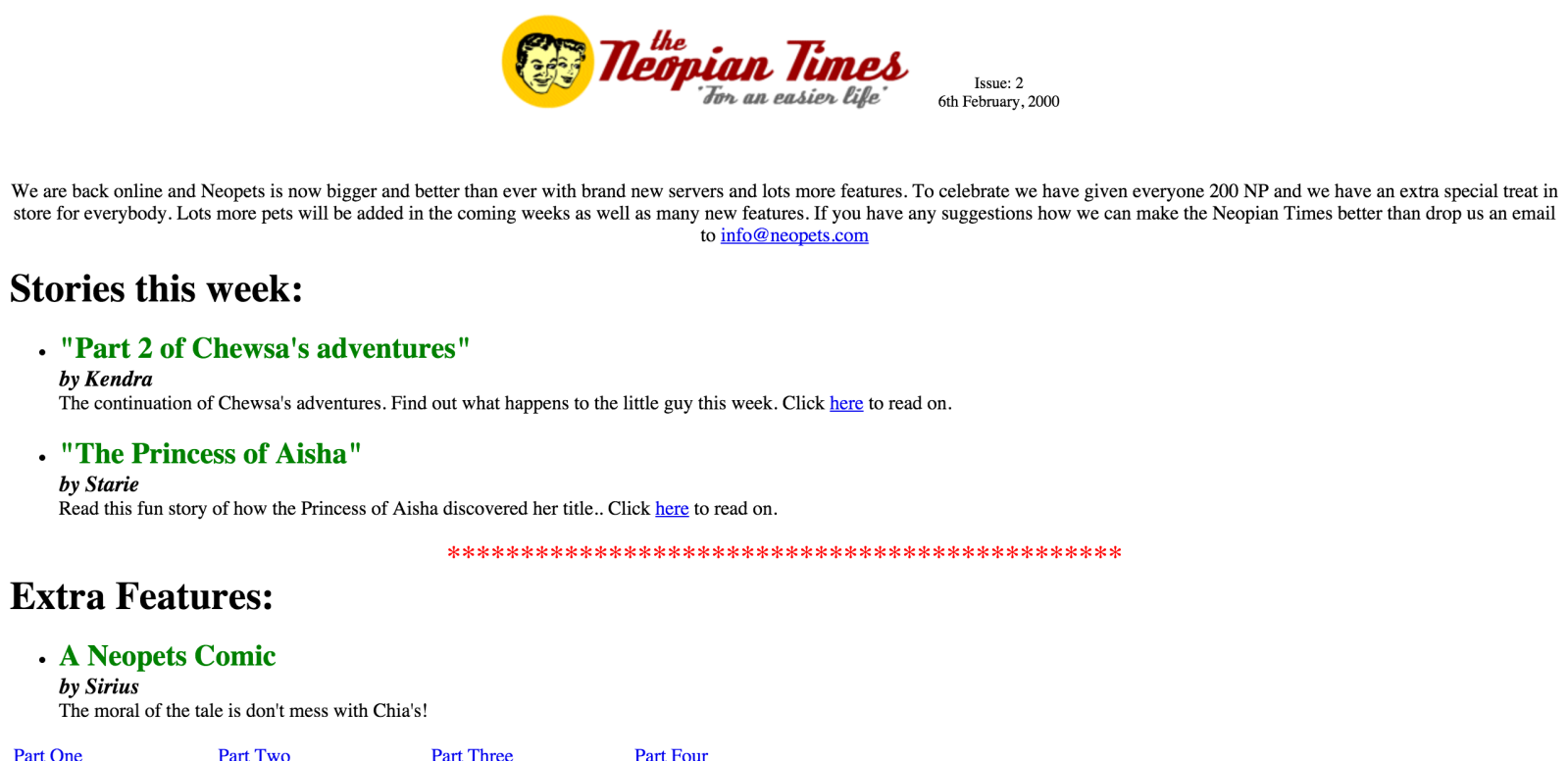 6 February 2000 issue, edited by "Josh" a.k.a. Mr Shankly
It included puzzles, comics, and stories/serials, all user-submitted, which is not too different than much of the content used today! As The Times became more refined in its design, it also added new regular articles like the Guild Spotlight.
The Times has gone through many revamps since becoming the slick and organized paper it is today. Its other notable format included a table of contents and this famous banner:

And of course, we cannot forget this fantastic and nostalgic layout!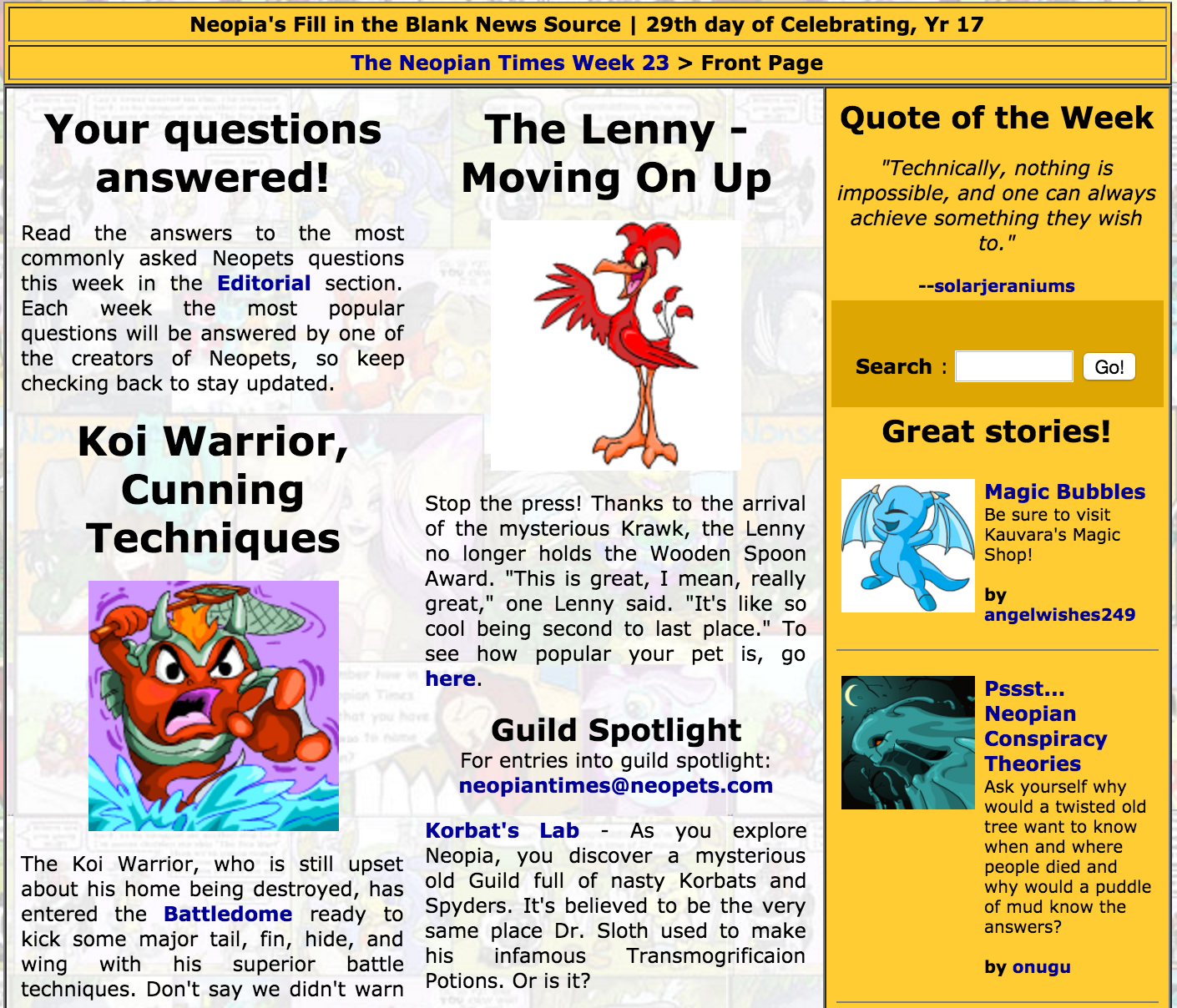 Back when some entries were sent via email!
Today, this is what The Times looks like!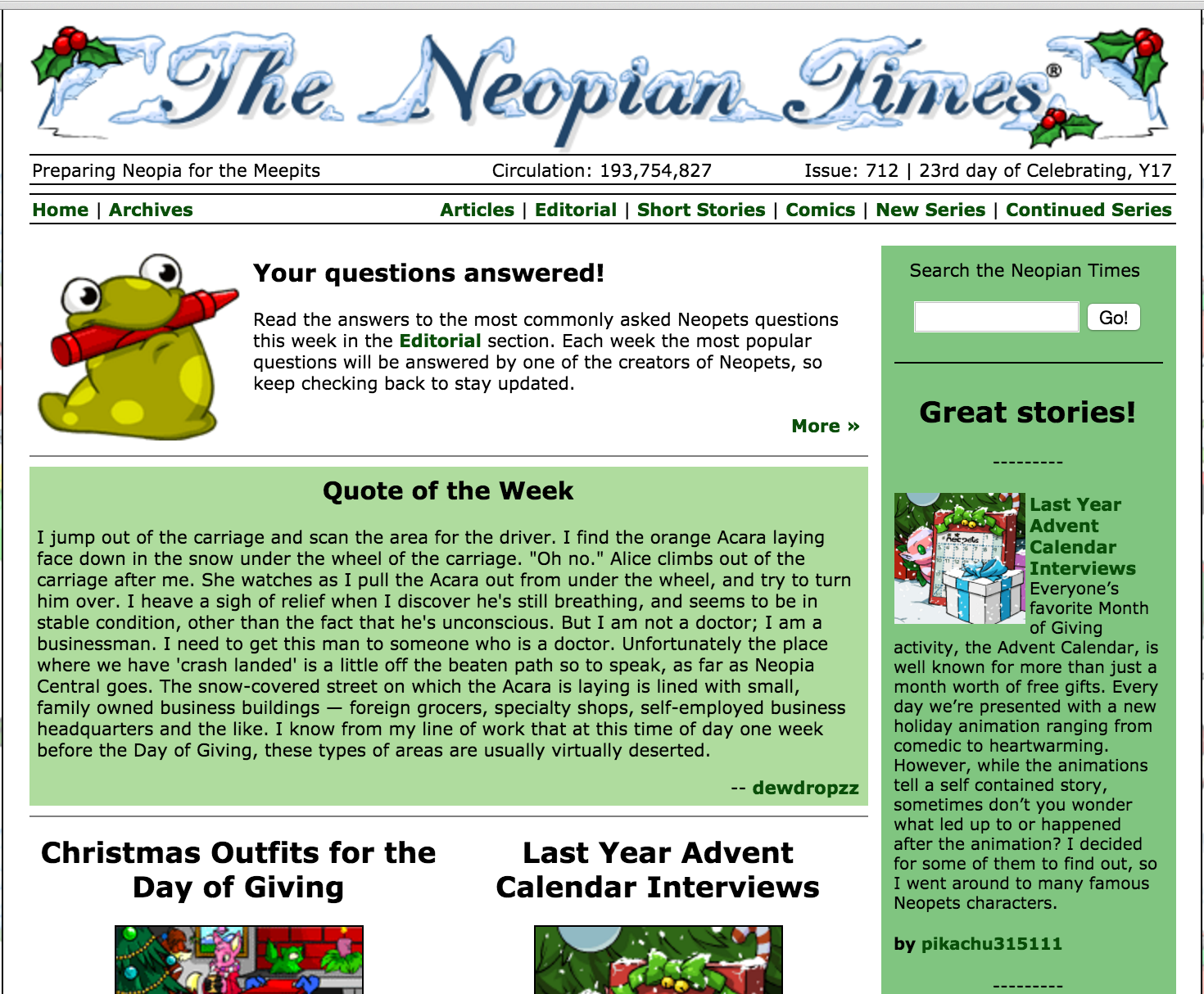 Issue 172 right in time for the holidays, as you can see!
There is a navigation bar in the top, right corner of the screen that can take you to the articles, short stories, and more if you're looking for something specific. We'll get more into those sections soon!
Past editors of The Times include Mr. Shankly and Felicia, a.k.a. Snowflake. Darcy, a.k.a. Droplet, is the current editor.
▻ The Mascot
The White Weewoo is The Neopian Times mascot. It has been the unofficial symbol of The Times since 2003. In 2002, a user was adamant about achieving a White Weewoo petpet for one of her pets, to resemble Harry Potter's white owl Hedwig. The user and her friends submitted tons of content to The Times, subtly and sometimes not-so-subtly mentioning a White Weewoo — which had yet to exist in Neopia — in order to push TNT to create one. The user achieved her goal on 28 October 2003 when the White Weewoo was officially released!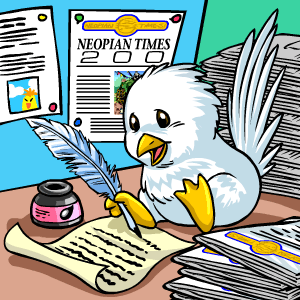 CONTENT
The Neopian Times is a newspaper that features opinion and advice articles, stories and serials, comics, spotlights, and an editorial, all user-submitted. It is important that articles be entertaining, useful, informative, appropriate, and within the diegetic universe that is Neopia. There are important guidelines that need to be followed for every submission, otherwise a submitted article will be rejected. These guidelines are not content-based — you can certainly let your creativity run wild when it comes to submissions!
▻ Articles
Articles in The Times cover a wide-range of informative content and activities in Neopia. These are non-fiction guides, streams of advice, and various information. Game guides are very popular articles, as well as guides on how to obtain certain tricky avatars such as Bon Appétit (from the Kelp restaurant) and guides on how to peruse different Neoboards with their particular lingo. These articles should always be truthful and verified, involve as much necessary information as possible, and be accessible for readers of all levels. This is a site for all ages, and it's up to those who write articles for The Times to make some of the more difficult aspects of gameplay simpler so everyone can understand!
NOTE: Article word count = 1,000 minimum / 50,000 maximum
▻ Short Stories and Serials
The Times features short stories and series of single stories, all fictional and written by users. The content of these stories must be completely within the world of Neopia and, with few exceptions, cannot involve anything that wouldn't be found there; for example, if you were writing a story and a character was scared of a spider, they would actually need to be scared of a Spyder, because plain old spiders are not found in Neopia! It's important that these stories be entertaining, whether they be happy or sad or funny or anything in between. Most importantly, they need to be original! There have been a lot of issues of The Neopian Times, and if a story is not original, it will easily be forgotten (if it can even get published)! Short stories are one of the original and most popular aspects of The Times.
NOTE: Short story word count = 1,200 minimum / 4,000 maximum
NOTE: Series word count = 1,5000 minimum per part / 50,000 maximum per part
▻ Comics
The Neopian Times has its own page of comics that is arguably its best and most popular content every week. These comics are often very funny and make fun of some of the sillier happenings in Neopia, such as the behavior of trolls in the Pound Chat or feeding those troublesome kads. Controversy and light teasings are not off-limits and this mockery can be seen in the comics every week. Drawing talent is not necessary — as long as you try your best and the quality of the scan/image is nice, it doesn't matter if you draw like a 2-year-old or if you draw like M.C. Escher. For those players that do not speak English as a first language, make sure the text in your image is grammatically correct since TNT will not edit the comic .jpg/.gif to fix spelling or grammar edits; post on the boards or ask a friend to double-check your image before you submit it!
NOTE: File size max = 2oo KB, 470 pixels maximum / .jpg and .gif only
▻ Editorial
The Editorial is a very important part of The Neopian Times. Here, users and TNT can finally be on the same page about some things every week. Users can submit questions and Country Queen (CQ), the current Editorial editor, will pick and answer some questions for the following week. Because the editorial comes out every single week with The Times, many of the questions are very current and about current glitches or miscommunications. CQ generally does not answer questions that have been answered in past issues (such as inquiries about KeyQuest, which is a very popular question). If you ask a question but do not want your username to be displayed alongside the question, for whatever reason, simply mention this at the end of your question and your UN will be removed.
NOTE: While getting an article, story, or comic published in The Times will get you a trophy for your lookup, having a question answered in the Editorial does not award a trophy or count towards the avatars.
GUIDELINES AND SUBMISSIONS
There are very important guidelines and rules when it comes to what sort of content makes its way into an issue of The Neopian Times. While I mentioned the word limits above, there are a lot of other rules. Some brief guidelines can be found on the submissions page. Otherwise, let's go over some of the DON'Ts in depth!
All Neopets rules apply to The Neopian Times.
Mild cartoon violence is acceptable, but no blood, gore, etc. is permissible.
All content of stories, serials, and (most) comics needs to be realistic to the Neopian universe. This means that things/people/Neopets/items/etc. that do not exist in Neopia should not be part of stories, including but not limited to male Faeries, most technology outside of the Virtupets Space Station (this includes video games, telephones, and televisions), vehicles like cars and planes, police, incurable disease, non-existent pet colors, Neopia origin stories, and any animal, hybrid, or creature that could not be found in Neopia.
All spiritual and political topics are not allowed, including but not limited to religion, politics, seances, cults, and origin stories.
Adult topics are not allowed, including but not limited to child custody battles, excessive death, prisons, and romantic relationships.
Any mentioning of the existence of Jelly World is not allowed.
Users should not mention on-site penalties like being frozen or silenced, unless they are mentioning it off-hand or briefly in a guide. Rules should also not be listed or explained, as it is up to users to read the official rules and not rules that have been summarized by others.
Once your appropriate submission is sent in, you will receive a word from the editor in 3-10 days with a neomail that explains if your submission has been accepted, rejected, or held over for a possible future issue. The reasons for rejection will be listed, and you do have the option of "fixing" your submission and re-submitting. If your article is being held over, you do not need to re-submit; rest assured that they have it, and you'll hear back about it (again) soon!
You can co-write articles with your NeoFriends. Simply add their UN to the authors' box when you are submitting your piece and you both will receive eligible trophies and avatars if the piece is published!
TROPHIES AND AVATARS
Being published in The Times definitely pays off! Any published author gets a shiny golden trophy for their lookups:


Neopian Times Champion! Good job!
If you get published multiple times, the amount of trophies you have won't grow, but underneath your trophy will say x2, x3, x4, etc., based on how many times you've been published.
There are also two beautiful avatars that can be "won" from submitting to The Neopian Times. But don't get your hopes up too quickly because these are tough to get and take a lot of dedication and patience!

Get published in The Neopian Times 10 times.

Get published in one of The Neopian Times' every 50 issues,
i.e. issues ending in '00' or '50' (beginning since Issue 200).
Getting published in "landmark" issues like #300, #350, etc. can get those authors some other interesting and special awards, such as the prized Neopian Times White Weewoo Plushie!
NOTES
You can access past issues in the The Neopian Times archive, and issues 1 to 150 at this archive.
Chet Flash is a name you might see in The Times. He was created by the Neopian Times Writers' Forum for really no reason besides to have a never-before-seen-nor-heard character that could be namedropped every once in a while. You may see his signature line, "Chet Flash wuz here," but you'll never see the man himself!
The editor and artists pick the images that are displayed with the stories and articles in The Times. The images that are displayed with the stories are generally original, unique images never before seen!
Author: Sarah