For those fortunate Neopians that have hundreds of thousands of extra neopoints to spend (yeah, you heard me right!), there are some fabulous prizes that await them at the Wheel of Extravagance!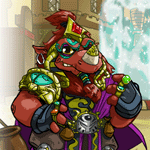 WHERE IS THE WHEEL?
This wheel is sort of like VIP club, which might be why it's not right out in the open! To find the wheel, go to Qasala and then click the opening I've designated below, in the bottom right-hand corner:
BOON
If your faction wins the Battleground of the Obelisk, you have the opportunity to use the Right Round Right Round boon. Activating this would allow you to spin all of the wheels twice before needing to wait to spin again. You do have to pay a second time. To get your second spin, you need to refresh the page after your first spin.
PRIZES
The wheel costs 100,000np per spin, and you can spin the wheel once a day. Because you are spending so much more to spin this wheel, the prizes are that much better! Like the other wheels, there is also a fantastic avatar that you can win, but make sure you budget! The prizes are all random and unless you're lucky, it will take quite a few spins to win the better prizes, including the avatar!
You win a rarity 100 item.
You win nothing.
You win 25,000np.
You win a random Nerkmid, Secret Laboratory Map piece, or job coupon.
You win a paint brush.
You win 50,000np.
You win an avatar.
You win Wheel of Extravagance Background.
Your active wins +5 of any of the following stat: hit points, strength, defence, movement, intelligence.
You win 100,001np.
You win Wheel of Extravagance Stamp.
Your active wins 10% more or +10 of any of the following stat: hit points, strength, defence, movement, intelligence.
▻ Avatar


Spin the Wheel of Extravagance and land on the square.
NOTES
Since you can win items and neopoints from this wheel, you cannot spin the Wheel of Extravagance on side accounts. To learn more about what you can and cannot do on side accounts, check out our Side Accounts Guide.
You can mute the wheel by clicking the speaker at the bottom right-hand corner of the game screen.
Author: Sarah