Neopets Faerie Crossword is a traditional crossword puzzle game.  You are given clues for Neopets-related words and your objective is to complete the Faerie Crossword in under five minutes.  The Faerie Crossword is located in–you guessed it, Faerie City and is run by none other than the Library Faerie.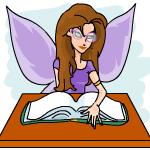 How To Play
The Library Faerie presents you with fifteen clues, in either the vertical or the horizontal orientations.  To select the clue you wish to solve, you can type the clue number into the 'Active Clue' box (eg. 1 down), or simply click the clue itself to auto-populate the box.  Next, type in the answer to the clue in the 'Word' box and hit Go.  Simple enough, right?
Neopets Faerie Crossword Answers
The Neopets Faerie Crossword answers are rather easy to find, and test your Neo-knowledge.
Prizes
The Faerie Crossword awards neopoint prizes depending on the time in which you complete the puzzle.
| | |
| --- | --- |
| Completion Time | NP Reward |
| < 5 minutes | 600 NP |
|  5 – 15 minutes | 400 NP |
| > 15 minutes | 200 NP |
Occasionally, upon completing the Faerie Crossword, the Library Faerie will also increase your Neopet's intelligence!

Faerie Crossword Cheats and Tips
Various sources will post daily answers to the Faerie Crossword.  Performing a quick internet search with the current date will pull up the answers and you should have no problem at all completing the puzzle in under 5 minutes
The puzzle is generated using the same bank of clues every day.  After playing the puzzle for a while, you will start to notice that the grid reuses clues
You can only complete the Faerie Crossword once per day.  The puzzle is reset every night at midnight NST so make sure to complete the puzzle before the end of the day, otherwise the new puzzle will override your current progress

Good luck puzzling and have fun!