The Money Tree is where all donated items and NPs end up. Up to 20 items at a time are shown and available for grabs on the tree's page. Refreshing the page will refresh the list with new items. To receive an item, simply click it. Be warned, you need to be fast because good items are snatched quickly. Also be aware that the Money Tree only allows 10 items to be taken per day and that you can only take NPs if you have less than 20k on-hand. Note: The 10 items allowed from the Money Tree count toward the collective 10 items allowed daily from three locations: The Money Tree, The Second-hand Shoppe, and the Rubbish Dump.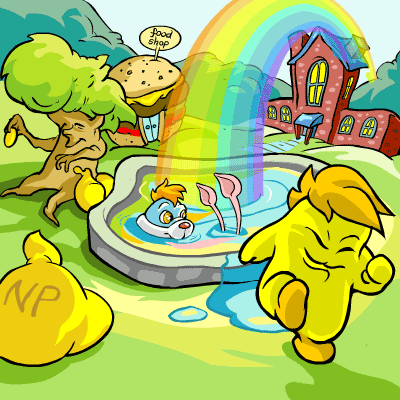 If you're feeling generous, you can also donate to the Money Tree. Click an item in your inventory and select the "donate" option to send it to the tree. You can also quick-stock donate for multiple items. Any item donated these two ways will end up at the Money Tree unless the item is a neopoint wearable, in which case it will automatically be sent to the Second-Hand Shoppe instead. Or you can visit the tree's page to donate pure NPs. Up to 50k NPs per day can be donated, in intervals of 6 NP to a max of 5K per donation.
Money Tree Link
http://www.neopets.com/donations.phtml
Money Tree Cheats
Admittedly, most of the Money Tree items are junk, but if you camp out for long enough, you're sure to find something of value. To help out, here's a list of a few famous neopians that like to donate from time to time.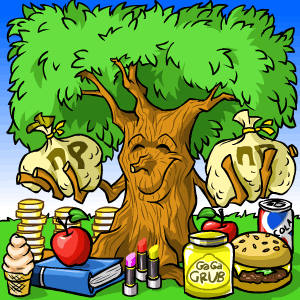 Balthazar – Every Wednesday at 7:00 a.m. NST, Balthazar donates a few bottled faeries to the Money Tree, which might be worth snagging.
Generous NC Mall Shopper – Since the introduction of the NC Upcycle Fortune cookie, all NC items donated by those cookies end up at the tree. All are listed under the same anonymous moniker.
Ghosts – You know that Random Event when ghosts steal XXXX amount of NPs from you? Those NPs turn up here, modestly listed as donated by the ghosts themselves. The ghosts will also sometimes take everything from the Money Tree. When this happens, you have to wait for the item list to fill back up again.
Health Frog – At 7:00 a.m. NST daily, the Health Frog visits the Money tree and spreads his health-conscious message by donating anywhere from ten to two hundred different fruit and vegetable foods.
The Lupe Pack – Every Sunday at 5:50 p.m. NST, the Lupe Pack continues to spread their own health message; the thrill of eating copious amounts of chias. They usually donate white and dark chocolate Chias.
Pango Pango – At 10:45 a.m. and 10:45 p.m. NST, there is a chance that Mystery island Chef Pango Pango will decide to donate hundreds of exotic fruits to The Money Tree.
Scamander in Chef – Lastly, if you're lucky enough you might see Scamander in Chef. He visits at random times and he donates hundreds of scamanders. Those scamanders are often very hard to catch!
If you suspect you're banned from the Money Tree for the day, but can't remember if you've collected all 10 items, check the format of the message you receive when clicking an item. If the message "Oops! Too late…somebody seems to have taken that item while you were pondering." appears centered on the page, instead of aligned to the left, this means you are indeed banned and can not receive another item until after reset at midnight NST.