Tombola is a straight forward game. It's free to play and all you need to do is click the "Play Tombola!" button at the Tiki Man's stand. You'll then be shown a ticket and if the ending number of the ticket is a 0, a 2, or a 5, then you will win one of the main prizes and neopoints. If the ticket ends in any other numbers, you'll have lost but you might still win a booby prize, which might be a less expensive item and a few neopoints.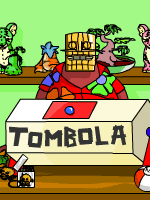 Tombola Cheats
The Tombola Man is not always available at his stand. He closes it down between 3-4 a.m., 1-2 p.m., and 9-10 p.m. NST daily with a sign that says "Closed. Back in an hour or so." He can also run out of prizes to give; it's a free game after all. If he runs out of neopoints for prizes, then he'll set up a donation option and he won't give out anymore tickets or items until enough users have donated to replenish his supply of neopoints. If you don't want to donate to the cause, just come back later when enough other users have already finished the job.

The collection of winning items available from tombola has a large range. There are 3 exclusive items however; Curly Green Sand, Ornate Rainbow Sand, and The Shy Purple Ona. The other prizes are items available from other areas of the site as well. They include any r35-r88 Gross foods and all 10 basic codestones.