Neopets Cheat! is the only game on the Neopets website where you are encouraged the play dishonestly!  The objective of Cheat is to, well, cheat–but cheat well!  In this simplistic card game, you are pitted against some famous Neopian characters in a high stakes round table bluff-0ff.  Do you have what it takes to outcheat some of the most notorious cheaters in Neopia?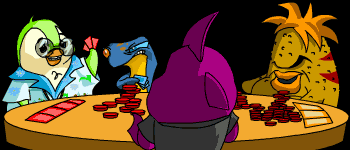 How to Play
Each player is dealt a thirteen card hand to begin the game.  Your objective is to play your entire hand before your three opponents.
On the first hand of the game, and each time the deck is cleared, you are able to select any card you wish and play one to four of that card.  The card you choose is announced to the other players.  Here is where the fun starts, you do not have to actually play the card you announce.  For instance, you may announce to the table that you are playing four aces and actually play two sevens, a jack and a king! (Muahahah!)
When the next player's turn begins, they may either play the same card as previously announced, one card higher, or one card lower.  For example, following an eight, you may play a seven, eight or nine.
As you play deeper into a round, it becomes more and more difficult to play the game honestly.  Eventually, you will not have any of the three allowed cards and you will be forced to cheat!  This is where your opponents can call your bluff!  If you are caught cheating, you pick up the entire deck!  But, if you were accused of cheating on an honest play, your accuser picks up the deck instead.
As mentioned earlier, once the deck is picked up, the next player may choose whichever card they would like with which to lead the new hand.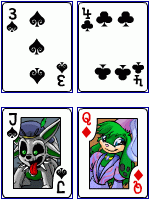 The Tournament
The first round you play, you will face the three most novice Cheat! players: Capara, Little Timmy and Branston.  Each time you win a round, you will advance to the next, where the weakest player has been replaced by a more skilled cheater.  In order to win the entire tournament, you must defeat the ultimate cheater, Spectre, in the seventh and final round.
The opponents you will have to out-cheat in each round are summarized below:
Round
Opponents
Prize
1
Capara

Little Timmy

Branston

100 NP

Battlecard

Cheat! Avatar

2
Little Timmy

Branston

Chuffler Bob

150 NP

Battlecard

3
Branston

Chuffler Bob

Brucey B

200 NP

Battlecard

Bronze Trophy

4
Chuffler Bob

Brucey B

Kalora

250 NP

Battlecard

5
Brucey B

Kalora

Princess Fernypoo

300 NP

Battlecard

Silver Trophy

6
Kalora

Princess Fernypoo

Agent 00 Hog

350 NP

Battlecard

7
Princess Fernypoo

Agent 00 Hog

Spectre

400 NP

Battlecard

Gold Trophy
Prizes
You receive a puny neopoint reward upon winning a round as well as a random battlecard featuring one of the opponents you have bested that round.  The battlecards are single-use bombs that can be used in the Battledome.  The battlecards come in regular, silver and gold.  The colour of the battlecard you win each round is completely random.
The Cheat! avatar is unlocked by winning Round 1 of the tournament.  But you will have to win the whole thing to get yourself a gold Cheat! trophy for your collection.



Cheat! Cheats and Tips
Be conscious of the cards your opponents are playing.  If you play three fives (honestly), Branston plays two sixes and Brucey B plays two fives, you know Brucey is cheating because you have already played three of the four fives in the deck.
Try to keep a variety of cards in your hand.  You never want to be stuck in a position where you are forced to cheat when there are twenty cards in the deck.  Rather than playing all four of your threes, hold on to one in case you need one in the next rounds.
If you foresee a situation where you will be forced to cheat on a large deck, sometimes it is better to accuse the player before you of cheating and hope to catch them in the act, clearing the deck.
The earlier players are easier to fool and make foolish moves themselves.  You can make riskier bluffs in the earlier rounds but try to play as honest as possible in the later rounds.  Not much gets past Spectre!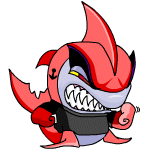 Ironically, the best Cheat! strategy is, well, not cheating.  But where's the fun in that, right?