Patapult is one of the many active games in the NC Mall! Patapult is a Neocash game, meaning it cannot be played with neopoints and can be played on side accounts. Users buy Patapuff packs from the NC Mall and can then play the skeeball game and earn exclusive wearable prizes!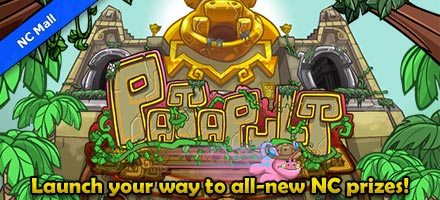 GETTING STARTED — PATAPUFFS
In order to play Patapult, you must buy a Patapuff pack. Patapuffs are sold in the NC Mall and can be purchased in three different quantities:

As you can see, Patapuff packs can be purchased individually or in packs of 5 or 10. Buying larger packs decreases the amount of an individual Patapuff and is essentially a better deal. If you plan to play multiple times for a specific prize, consider buying one of the larger packs to save money!
Unlike other NC Mall games like Shenanigifts and Wonderclaw, there are no Power-Ups in Patapult.
PLAYING PATAPULT
To start the game, go to the homepage and click "PLAY". Patapult is a unique NC Mall game in that it takes actual skill to get the prizes you would like. The game only requires a mouse or trackpad, and there are two main controls: 1) Use your mouse to drag the Patamoose back and forth in order to aim it, and 2) Left click on the Patamoose and drag it towards the idol of your choice to launch it.

Depending on which prize you are aiming for, you can aim and launch your Patamoose at Wood, Bronze, Silver, or Gold idols. These tiers provide different prizes, so check out the "Prizes" section of this article before playing!
For each Patapuff you use, you have three chances to get an idol, which will correspond with the areas on the map above. If you miss, you will generally end up with a Wood idol. Each of the three rounds should result in an idol, and you can decide if you want to keep it or try again after each time. If you get the idol you want on your first or second throw and decide to keep it, the game will end, and you would have to use another Patapuff to continue playing.
Unfortunately, the game takes some practice, and it might require quite a few Patapuffs before you get the tier you'd like, say Silver or Bronze. Be careful if you're playing for the first time and only have a limited amount of Patapuffs!
REDEEMING PRIZES
Redeeming prizes requires the idols that you win during the game. The amount of idols you have will appear on the homepage of the game, and not in your inventory.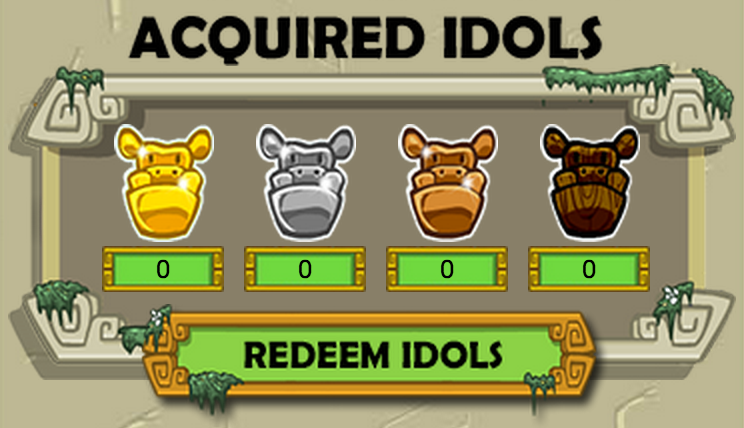 As you can see, I have 0 of each idol… 🙁
Each prize is worth a certain amount of idols in a certain tier. To collect a prize, simply click "REDEEM IDOLS" under your Acquired Idols count. A prize can only be collected if you have the exact idol that is required, meaning a Bronze-tier prize needs a Bronze idol to be redeemed; even if you have a Bronze Idol and want a Wood-tier prize, it won't work.
PRIZES
The following are the prizes that currently be won from Patapult:
Wood Tier Prizes
| | | | | | | |
| --- | --- | --- | --- | --- | --- | --- |
| Cheery Self of Flowers | Colourful Glass Suncatcher | Dewy Snowdrop Flower Foreground | Flower Vase Balloon Bouquet | Jewelled Chain Wig | Magic Illuminating Wand | Magical Turquoise Quill |
| Mixed Pattern Layer Shirt | Purple Crystal Shard Staff | Red Suede Booties | Rotating Light Cube | Sparkling Black Sunglasses | Sparkling Platinum Wig | Viny Portal Foreground |
Bronze Tier Prizes
| | | | | | |
| --- | --- | --- | --- | --- | --- |
| Ancient Geraptiku Spear | Blue Cuffed Shorts | Brown Tapered Wig | Candy Floss Swirl Wig | Elegant Ombre Skirt | Fuzzy Raglan Sleeve Shirt |
| Hands of Fiery Energy | Ink Splattered Skirt | Lighted Globe Garland | Rosette Knitted Jumper | Tree of Hearts Foreground | |
Silver Tier Prizes
| | | | | |
| --- | --- | --- | --- | --- |
| Beaded Shoulder Armour | Blonde Quiff Wig | Dapper Striped Socks and Shoes | Dramatic Forest Gates Background | Plaid Aqua Skirt |
| Playful Tousled Wig | Rich Emerald Wig | Sleeveless Blue Flower Shirt | Walk Around the Park Background | |
Gold Tier Prizes
| | | | | | |
| --- | --- | --- | --- | --- | --- |
| Autumn Stream Bridge Background | Lost in the Forest Background | Mystical Jewelled Door Background | Sunny Summer Scarf Wig | Tangerine Contacts | Yellow Ruffle Dress |
Author: Sarah