The Deserted Tomb is available for exploration once a day. You'll have to click to enter the tomb twice, because the second screen will still try to dissuade you. However, no permanent negative effects can happen to your account or pets from the tomb.
Deserted Tomb Cheats

There are several different outcomes from visiting the tomb. Three of these are negative outcomes; two of which end in a dead end and the third causes your pet to suffer some damage to their Hitpoints. There are two positive outcomes that result in a prize and a possible avatar; one is finding a small petpet that gives one of the exclusive geraptiku prizes and the other is winning the tomb game by finding the long lost treasure! When winning the treasure, you'll find a random tomb item, neopoints and a codestone OR bottled faerie OR tropical fruit. The codestone could be any of the 10 basic tan codestones, the faerie will be one of the fading bottled faerie and the fruit could be any of the Mystery Island fruits.
Here is a list of all items that can be won exclusively from the tomb:
Bone Sceptre

Crunchy Skullberry

Earth Stone Gem

Geraptiku Burger

Geraptiku Fly Trap

Geraptiku Punch

Geraptiku Recipes

Geraptiku Snowglobe

Golden Geraptiku Talisman

Island Native Techo Plushie

Lucky Bone Necklace

Obsidian Dagger

Potgatkerchi PLushie

Red Geraptiku Vase

Traditional Bone Throne

Wind Up Potgatkerchi Toy
Deserted Tomb Avatar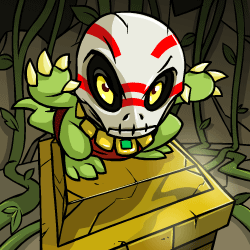 Possibly one of the most coveted random avatars, if you're incredibly lucky than you might stumble upon "Geraptiku – Deserted Tomb." This avatar is awarded randomly when finding an item or the treasure in the tomb. Because it can also be awarded from finding an item, that means that you can get lost in the tomb and still win the avatar!