You might think that petpets are simply sidekicks but you'd be wrong! Petpets can go on adventures of their own, and even wear equipment and collect prizes, just like your pets. Through Grave Danger in Neovia, you can send a petpet on a mission to bring you back untold fortune!

PLAYING GRAVE DANGER
▻ Prepping your petpet
If it is not obvious already, it is essential that you have a petpet to play Grave Danger, which means one pet on your main account needs to have a petpet attached and named.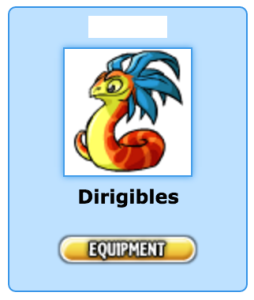 Meet Dirigibles. He's going into the Catacombs.
It's important that you're careful about which petpet you choose to go on an adventure. When you do this, the pet of which this petpet is attached cannot be pounded, the petpet cannot be removed, and the petpet cannot be zapped.
▻ Equipping your petpet
This is the point in which you can decide if you'd like to equip your petpet before sending it into the Catacombs. You can equip your petpet with items from the NC Mall that can only be used one time. After that, they disappear! There is only one piece of equipment currently available: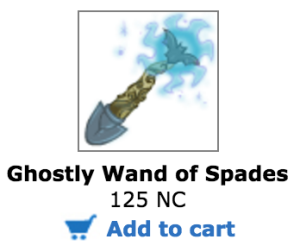 You don't need to do anything to the equipment to use it. Simply click "Equipment" under your chosen petpet's image and you will be prompted to chose something. You cannot stack equipment.
Using NC Mall equipment means your petpet will bring back an additional prize, specific and exclusive NC prize. You can read more about that below, in the Prizes section.
▻ Going on an adventure
Once you've chosen a petpet and equipped them (if you'd like to), then you will be prompted to verify your decision:

After you've done this, the image of your petpet on your pet's lookup will change to this: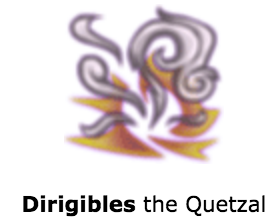 Next, you wait. You wait and wait and wait. In fact, you can wait anywhere from 3 to 10 hours for your petpet to return with a prize. During this time, you will be provided regular status updates on your petpet should you chose to check up on them:

Possible statuses:
Ate a Grumblebug.
Batted around an old ring with a triangular symbol.
Begging for scraps at the table of a cultist tea party.
Being cuddled by an evil cultist.
Being taught how to glorp by a Gelatinous Non-Cube.
Chased a Skidget past a sewer, a dragon, and a mob of Meepits. Survived.
Chasing its tail on Level 92.
Chewing a cultist's robes.
Chewing a slime-covered shoe left by some unfortunate adventurer.
Clambering across the keys of an organ as curses fly in all directions.
Cowered in fear as a skeleton shot arrows at it.
Danced in a circle with Ghost Meepits.
Dancing to some sweet jazz music with a friendly cultist.
Dug up some bones and played with them for a bit.
Exploring an empty corridor.
Followed its nose to the scent of cinnamon rolls.
Fought a cult dedicated to the destruction of Neopia… then made friends and went out for cupcakes.
Found an old shoe! Grrr… Rawr!
Found a peanut.
Found a treasure room! Wandered away without taking anything.
Got covered in slime… Ew. That's going to take a good scrubbing.
Got eaten by a Gelatinous Non-Cube… and was spit back out.
Got stepped on at a cultist dance party.
Had a sneezing competition with a dragon.
Had a staring contest with its doppleganger.
Invited to be mascot of a cult. Declined the offer.
Located some bacon. Mmm, catacombs bacon.
Made friends with a pile of Spyders and played Chase the Vernax.
Making friends with a giant Globilol.
Nearly got eaten by a Gelatinous Non-Cube.
Observing a banjo duel with some interest.
Played tag with a Psimouse.
Ran away from a hungry zombie.
Rolled in a heap of discarded dung cream sandwiches.
Rooted through a pile of old cultist robes.
Running away from a fire-breathing dragon!
Sitting around on Level 83.
Stepped in glowing ghostly residue.
Tried on some mummy bandages.
Walking backward with a pair of mummies.
PRIZES
Now onto the best part! You can check back to the Grave Danger homepage when the time of your petpet's adventure has expired. There, it will have your prize: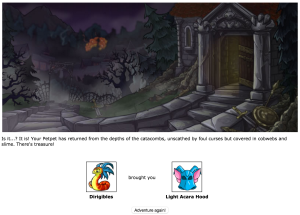 Not exactly what I wanted but… okay. Thanks, Dirigibles!
There are three types of prizes you can win from Grave Danger: exclusive Grave Danger prizes, general prizes, and exclusive NC Grave Danger Prizes:
▻ Exclusive Grave Danger prizes
| | | | | | |
| --- | --- | --- | --- | --- | --- |
| Dancing with Ghost Meepits | Gelatinous Bouillon Non-Cube | Grave Danger Stamp | Grumblebug Pie | How to Win Staring Contests | One of Us Tea cake |
▻ General prizes

Amber Sword

Babith

Banjo

Basket of Vegetables

Biyako

Biyako Stamp

Black Velvet Cloak

Blue Meerca Gnome Plushie

Blue Moon Petpet Bed

Blue Xweetok Morphing Potion

Boots of Leaping

Butterscotch Disc

Buzz Gourmet

Carrot Sculpture

Casket Table

Cave Foreground

Cello

Chocolate Bearog Claw

Chocolate Cherry Bundt Cake

Cobrall In A Can

Coffee Service

Courgette Building Logs

Dark Translucent Wings

Deadly Attack Spork

Diamond Hot Dog

Doctors Bag

Draphly

Elegant Tea Service

Elephante Attack Peanut

Elixir Of Intelligence

Elixir of Intellect

Fauna Stamp

Flask of Liquid Fire

Flask of Liquid Light

Ghost Goople

Ghostkerchief Banjo

Ghoul Catchers

Gilded War Hammer

Glyme

Gold Trimmed Tunic

Green Sticky Hand

Gwontek Syrup

Halloween Ona Stamp

Hand Painted Scimitar

Handful of Asparagus

Happy Face Latte

Healing Potion XIX

Healing Potion XV

Healing Potion XVIII

Ice Mirror

Inflatable Bouncy Pirate Ship

Jhudoras Cursed Coin

Korbat Mooncake

Korbats Lab Stamp
 
Leaded Earth Vial
 
Leaded Fire Vial

Light Acara Hood
 
Lotus Leaves

Manacle Mace

Maraquan Paint Brush

Maraquan Petpet Paint Brush

Meat Skewered Meat
 
Minitheus

Minor Healing Ointment

Mint Chocolate Kacheek

Mootix
 
Neovian Darkfall

Niptor Plushie

No Bones About It

Orange Gummy Stamp

Organ
 
Organic Peanut
 
Organisation is Easy

Pawkeet Pinata

Pink Apple Lantern

Pirate Flotsam Plushie

Plushie Fungus

Potato Yo-Yo
 
Pottery Shard Dagger

Red Poogle Morphing Potion

Red Toadstool

Return of Dr. Sloth Valentine Card Set

Rocky Ocean Background

Sandy Body Wash
 
Shield of the North Wind
 
Skeleton Wocky Plushie

Slorg Care

Snot Lotion

Snowball Fortress Foreground
 
Spooky Skeith Adventures

Spooky Skull Perfume

Square Gelatin
 
Starry Grarrl Morphing Potion

Supersize Gargantuplex
 
Tablet of the Zombie
 
Tale of Woe Valentine Card Set
 
Tencals Balloon

Terracotta Lamp

Tomato Bomb
 
Tootum

Tropical Flora and Fauna
 
Twirly Plant
 
Unidentified Petpetpet
 
Virtupets Energy Sabre

Virtupets X-514 Super Shield

Walking Carpet Cotton Candy

Whole Anchovy Pizza
 
Whole Chilli Deluxe Pizza

Wings of a Ghost

Wraith Staff

Yellow Sticky Hand
 
Zombie Flotsam Plushie

Zombie Grave Book
 
Zombie Handbook
▻ Exclusive NC Grave Danger Prizes — Ghostly Wand of Spades
| | | | | | | | |
| --- | --- | --- | --- | --- | --- | --- | --- |
| Black Beaded Shirt | Bridge to Nowhere Background | Floral Vine Cuffs | Lavender Highlights Ponytail Wig | Mountain Summit Background | Parted Branches Garland | Sheer Blue Wings | Umbrella Lights Garland |
NOTES
Since you can win items and neopoints from this event, you cannot play Grave Danger on side accounts. To learn more about what you can and cannot do on side accounts, check out our Side Accounts Guide.
Author: Sarah