Fashion Fever is a dress up game, which was the only way you could dress up pets before customization became a feature on Neopets. It is a quick and easy way to earn neopoints (np). All you have to do is simply click "Start Game" and then "End Game" without having to go through the process of actually dressing up a pet. If you actually take the time to make a pet pretty (which can be a lot of fun, even for us older players), then why not go that extra step and send a card with the dressed up pet to a friend for those extra nps!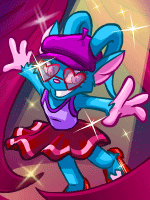 How do I begin?
It's very simple. All you need to do to begin is click on the different categories which will display the different clothing for each pet. When you have chosen the clothing you want to use, just drag and drop it onto the character to dress it up. The pets to chose from are Kougra, Acara, and Lupe, which you can cycle between using the "Change Character" button on the left (This is explained a little more further down). To cycle between different scenes, simply click anywhere on the screen behind the character you are dressing up, and it will cycle you through the variety of background scenes you can choose from.
If you really don't know what you want your character to look like, or you want something random, press the "Randomize" button. This will give you a random character with random clothes and background. This will also unlock some options that are not automatically available. That's it! Now you just click "Done" to send your score. Don't forget to send that greeting card to a friend before sending your score to give you those extra nps!

Choose your character:
There are 3 characters available to choose from. Each character has 6 different colors to choose from.
1. Kougra:
Available colors: Blue, Green, Red, Yellow, Disco, Electric.
2. Acara:
Available colors: Blue, Green, Red, Yellow, Shadow, Starry.
3. Lupe:
Available colors: Blue, Green, Red, Pink, Yellow, Fire.
Choosing a background:
The background you start with by default is the Dressing Room. Clicking anywhere on the background will change it. The available backgrounds to choose from are: Haunted Woods, Kiko Lake, Krawk Island, and Meridell Castle.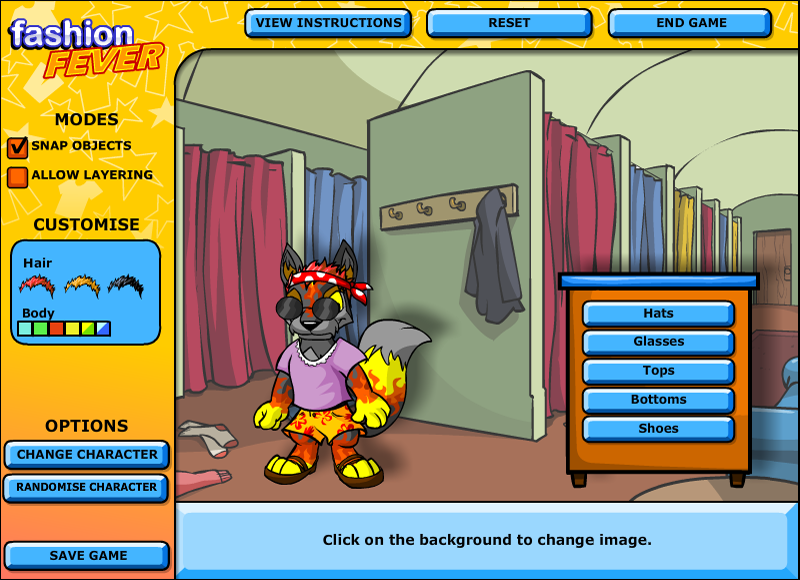 Dress your character:
There are several options to choose from. These are: Hair, Hats, Glasses, Tops, Bottoms, Shoes.
Tip:
By checking the "Allow Layering" option, you can add further clothes by dressing them on top of each other.
Hair:
Spiky Red
Spiky Blond
Spiky Black
Spiky White (use the "Randomize" button for this option)
Spiky Dark Brown (use the "Randomize" button for this option)
Spiky Light Blond (use the "Randomize" button for this option)
Hats:
Blue Visor
Pink Visor
Red Visor
Rainbow Propeller Hat
Red and Dark Blue Baseball Cap
Red with White Polka Dot Bandanna
White and Light Blue Baseball Cap with Yellow Star
Brown Bowler Hat
Purple Beret
Light Blue with White Stripes Ski Cap
White Hat with Brown Band
Black Pirates Hat
Blue with Yellow Stars Wizard Hat
Glasses:
Orange Stars
Red Hearts
Green Lens
Brown Lens
Purple Lens with Blue Frames
3-D Glasses
Thin Oval Blue Lens
Black Round Lens
Blue Square Lens
Tops:
Green Bowling Shirt with Yellow Stripes
Blue Sleeveless with Heart & Wings
White T-Shirt with Gold Star
Maroon Halter
Purple and Pink Tank Top
White T-Shirt with Red Trim
Blue Hawaiian Shirt with White Print
Pink Fuzzy Sweater
Black Dress Shirt
Light Purple Blouse
Green Tank Top with White Polka Dots
Bottoms:
Tan Pants
Black Pants
Blue Jeans
Blue Shorts
Purple Skirt
Brown Mini Skirt with White Trim
Blue Jeans Cut-offs
Orange Hawaiian Shorts with Red Print
Green and Yellow Plaid Shirt
Green Striped Pants with Pink and Blue
Green Striped Pants with Orange and Red Patches
Brown Corduroys
Light Blue Skirt with Yellow, Blue, Pink and Purple Flowers
Shoes:
Brown Clogs
Brown Sneakers with Tan Trim
Gray Sneakers with Tan Trim
Purple Boots
White Sandals
Brown Cowboy Boots with Spurs
Pink Fuzzy Slippers
Black Penny Loafers
Brown Sandals
Red Sandals
White Mary Janes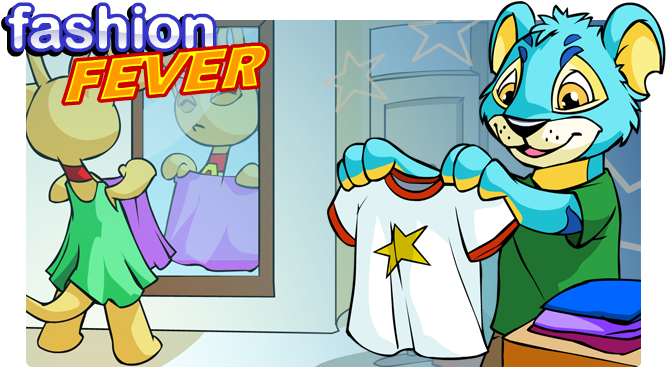 Randomizing your character:
If you love a gamble, or just want to see the fun outcomes the "Randomize Character" button gives, try it. You won't be disappointed! Every time you click "Randomize Character", a different character will appear. This is also the only way to get the white, dark brown, or light blond hair color options. If you are wanting any of those hair colors, just keep clicking "Randomize Character" until the hair color of your choice appears. Then all you need to is dress them how you want.
By clicking the "Randomize Character" button, you also are able to get a pink lupe, even though pink is not a color you get to choose from the start. Remember though, pink is not a clickable color. By clicking the "Change Character" button, that will update the color selection, and you will be able to choose pink as a color.
Now you are ready to play.
Get dressing and have fun!