Codestones have been around since the training schools, which is for many years. Codestones are magical items, which came from Mystery Island. These rare rocks can be given to train pets, or traded for red codestones.





FINDING CODESTONES
Codestones are giving out from Tombola quite often and you can find them in random events! If not, there is always the auctions, trading post or shop wizard. Codestones are quite expensive though, ranging from 6000-8000 neopoints a piece! But there are well worth it when using them in the Mystery Island Training School. The red codestones are used for the Secret Ninja Training School. To get a red codestone, you must place 10 codestones into the volcano to get ONE red codestone!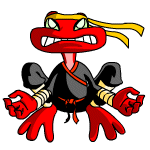 RED CODESTONES
Red codestones. What are those you ask? They are "rare" stones used as "payment". There are only two ways we know of on how to get a red codestone. You can either purchase one from the Shop Wizard, trading post or auctions, or go to the volcano. You must collect every single regular codestone (the yellow ones: main, lu etc.) and visit the Volcano. You must have ONE of EACH regular codestone (the yellow ones). Once you have all ten, it will give you a red codestone, which is completely random, meaning you can get any red codestone.