There's a lot of fun to be had in Faerieland, no doubt, and one of the most exciting things is very appropriately named: the Wheel of Excitement! You'll find this wheel in the center of Faerieland – you can't miss its beautiful rainbow colors!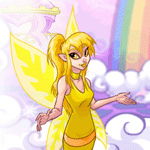 HISTORY OF THE WHEEL
The wheel was introduced in July 2010 alongside the site event Save the Wheels. Luckily, this one stuck around afterward! It used to look like this…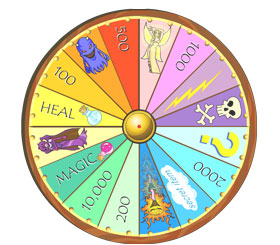 Ah, the nostalgic feels…
The prizes were the same as they are now, apart from two that have been deactivated. In the old Battledome, abilities had levels of their own. Landing on the Light Faerie or the Dark Faerie when spinning the Wheel of Excitement would raise and lower one of the old-style abilities by one, respectively. Apart from that, the Wheel you see today is the same old Wheel it has always been, but much prettier! Read below to see what you could win!
BOON
If your faction wins the Battleground of the Obelisk, you have the opportunity to use the Right Round Right Round boon. Activating this would allow you to spin all of the wheels twice before needing to wait to spin again. You do have to pay a second time. To get your second spin, you need to refresh the page after your first spin.
PRIZES
You can spin the wheel for 500np every 2 hours. There are a plethora of prizes, including its most coveted prize: an avatar! The prizes are random, so unless you're really lucky, it will take a lot of spinning to get some of the better prizes; so add it to your list of dailies and good luck!
Your active pet gets Chickaroo.
You win between 100 and 350np.
You win 5,000np.
The wheel says "Something mysterious happens to you and your pets… you are not sure what it is, however…" but nothing happens.
The Pant Devil steals something from your inventory.


NOTE:

This is currently glitched and you will not lose an item.
You win 400np.
You win 20,000np and an an avatar!
Nothing happens.
All of your pets lose half of their hit points.
All of your pets are completely healed.
You win 2,500np.
You win 500np.
All of your pets will lose some hit points.
You win a random Magic items (usually cheap morphing potions or bottled faeries).
You in 1,000np.
Nothing happens.
▻ Avatar

Spin the Wheel of Excitement and win 20,000np.
NOTES
Since you can win items and neopoints from this wheel, you cannot spin the Wheel of Excitement on side accounts. To learn more about what you can and cannot do on side accounts, check out our Side Accounts Guide.
You can mute the wheel by clicking the speaker in the bottom right-hand corner of the game screen.
Author: Sarah