WHAT IS
GREASEMONKEY

?

The official description states that Greasemonkey allows you to customize the way a webpage displays using small bits of JavaScript. So what does that exactly mean? Simply put, it lets you install SCRIPTS that add or change features about a webpage. For example, it might make everything on a website in pt 12 Arial font, or add an exit button to a frame, or click a series of links for you. Each script is applicable to certain settable webpages. To use any of the neopets greasemonkey programs/scripts posted on this website, you will need to install Greasemonkey first, or it's counterpart if you're not using Firefox.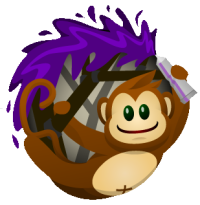 WHAT KIND OF SCRIPTS ARE THERE FOR NEOPETS?
There are tons of neopets greasemonkey scripts available to be downloaded, that have been created and uploaded by various users. These are all free and can be found at the holy grail for Greasemonkey scripts, userscripts.org. There are greasemonkey autobuyers, game autoplayers, greasemoney score senders, neoquest trainers, and etc.  The list is endless.
WHERE CAN I GET GREASEMONKEY?
Greasemonkey can be added as an extension to FIREFOX. For the purpose of simplicity, this guide, and any uploads, will reference Greasemonkey when talking about scripts, but other browsers are supported as well as can be seen below. You can download it safely and for free here:
https://addons.mozilla.org/en-US/firefox/addon/748
Chrome users have it easy. Chrome already has a built-in function to support userscripts. If you wish to have a simple interface, similiar to greasemonkey, than I suggest you download Tampermonkey:
https://chrome.google.com/webstore/detail/tampermonkey/dhdgffkkebhmkfjojejmpbldmpobfkfo?hl=en
Safari users, you can use an adapted version called Greasekit. Like above, not all Greasemonkey scripts are compatible with Greasekit.
http://8-p.info/greasekit/
IS GREASEMONKEY SAFE?
Greasemonkey is completely safe. However, the scripts are created by other users and can be malicious. They can grab your cookies, etc. Although the vast majority of scripts are created for good purposes, there are, as always, bad people out there. Userscript.org is mostly safe. Because of the open forum format, most scripts are already downloaded and tested by other users. Glitches, bugs, and any malicious activity will usually be prompty reported or posted on the script page by users. The scripts we upload to Neopets-Cheats.com, will be verified to be safe to use!
HOW DO I INSTALL A GREASEMONKEY SCRIPT?
Oh, that's very easy. although it took me awhile to figure out. First, enable greasemonkey (assuming you've already installed it and restarted firefox) by clicking the little grey monkey in the bottom right corner of your FF browser. It should turn from a frowning grey monkey to a happy colored one. Or (for firefox), click Tools > Greasemonkey > Enable. To install a script, press the Install button on userscripts. Click install again on the button, and bam you're done! If you have the script downloaded on your desktop, than open up the script with Firefox and you will be asked if you'd like to install the script.
HOW DO I ADJUST A SCRIPT'S SETTINGS?
You can adjust a scripts' applied pages, code, etc. by clicking Tools > Greasemonkey > Manage User Scripts.
NEOPETS GREASEMONKEY SCRIPTS
We have many popular greasemonkey scripts added to our site. Check our sidebar, near the end for a full list of them on our site. We've added a bit more below for your convenience.
Neopets : Underwater Fishing
Reels in your line for all your pets


Neopets : Quick Price Checker
Enables Alt+W to quickly check the price of the selected text and converts it into a link